So I hit the trade show at Connections the last couple of days. This was my first time there. Met a few people from various boards, went to a small get together and had an enjoyable evening.
The trade show itself was interesting. Not much there for VLM cleaners, but there were some nuggets. For instance, I got to meet the legendary John G. Both he and his son are really nice guys and it was great to test drive the Trinity and Profit.
I was impressed with the Trinity. We ran it on speed 3 and there is no doubt that it has a lot of power. I also tried out the Profit. Really liked how it felt. Incredible amount of control for a wheels up machine. There was mention of a new cotton/terry pad being developed, so that's good news. Again, professional guys and great machines.
Another vendor, part of a rug cleaning business, had a Defender/CX on display. Really wanted to try it out but they did not have it hooked up. Machine looked good though.
Mytee had an interesting machine that they unveiled. It's a modular unit that can be stacked as needed. What it looks like is an Air Hog Plus with an optional pressure washer box that can be attached to the top.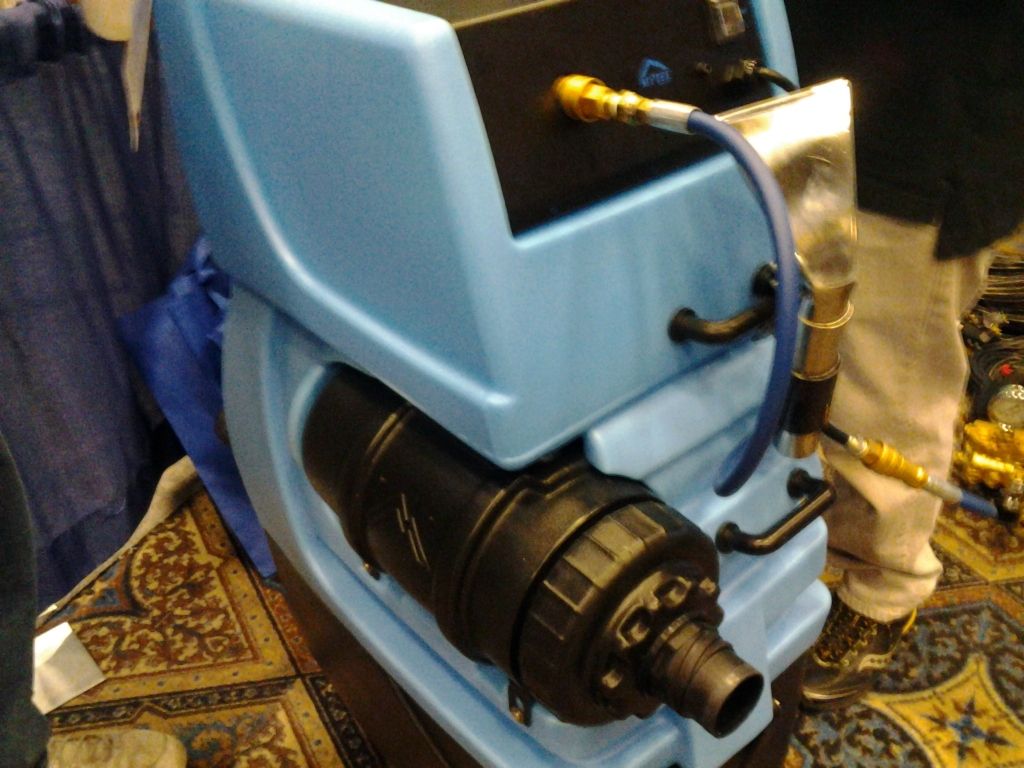 An Interlink rep gave me a kindly lecture outlining the benefits of using a CRB compared to an OP and how I am really missing out just using a CRB exclusively. As far as I am concerned he was very much wrong in both opinion and fact, however I was not going to argue with him. It's not that he looked down on OP or VLM cleaning, he just didn't know any better. Decent guy, just had no idea when it comes to VLM. Regardless, the CRB is a nice machine. I would like to find a mid sized unit. Would be a nice tool to have.
I also took a long look at the Dirt Dragon. Pretty big investment, but it looks great and I think there is a growing market for hardwood floor cleaning. However, there are probably less expensive alternatives to get that service going. Still, I think if you're busy enough that might be the go to machine.
Also checked out some vent cleaning equipment. This is something I have kicked around in the back of my head for a while. However, the process upon closer examination looks like a potential pain in the arse.
Lots of vendors selling air movers. Lots. In fact, the most displayed items were air movers, wands, and portables. As much as the show is about carpet and general floor cleaning there almost as many vendors promoting restoration related products and services.
The convention floor had about 3/4 of the space filled with vendors. However, the traffic seemed slow to me. This of course is coming from a guy that has never been to the show, so I could be way off base - but it didn't seem to be at crowd capacity or even close to it.
Talked to a few guys here and there about padcapping and how we clean. They looked at me as if I had forgotten the english language and started speaking pure gibberish.
They were beyond a doubt bewildered.